Wanna make sure you get the most out of Talentag? Here are 5 tips to make sure your social CV is up to date and getting feedback from others works well:
1. Claim a professions badge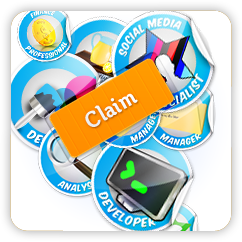 Key part of your Talentag profile is a professions badge, which describes what do you do at work. Make sure you have one. Now on you can claim it yourself and make it easier for friends to vouch and agree to that.
Click the "Claim a badge" action button on your Talentag profile and claim one or more professional badges that define you as a person. Here's a shortcut to the claim page.
Did not find a badge that describes you? Let us know and we might add one in the future.
2. Make sure your work history is up to date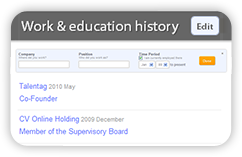 Vouching on other persons work history item is a nice way to say you like what they did at a position. Check whether your Talentag work history part is filled in and up to date. Company names and time periods are used to automatically say you're a colleague with others on your icons.
To add or change positions, click the "Edit" button on the Work & Education History section of your profile.
You can either add positions manually or just import your LinkedIn or Facebook work history.
3. Ask a custom question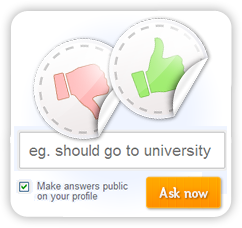 A great way to understand how others see you is to ask custom work- or personality-related questions on Talentag.
You could ask literally anything – but we recommend you stick to professional topics. Answers can remain private or be a part of your public profile, you choose.
We've now made it easier to ask your own question from your network, right on our homepage or Get Feedback tab.
4. Invite friends & co-workers to tag you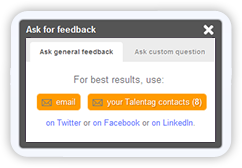 We've found that friends and co-workers tend to give you more badges, tags and vouches when you actively ask for them.
Simply choose the Get Feedback link from Talentag top menu and ask. You can use either your e-mail or Talentag contact list. Alternatively, you can use Twitter, Facebook or LinkedIn to share your feedback request.
5. Add a profile or questions widget to your blog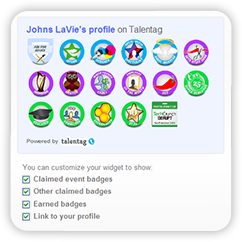 Why not show off your Talentag badges and ask some questions right on your blog sidebar or personal external website?
Head to the Settings page's Widgets section and you'll find 2 widget types there.
First allows to show all the badges you've received, or select just a sub-section of them.
The second is a questions and answers widget that allows the visitors of your website to give Yes / No answers to personality questions about you.
Get the widget codes here.
Happy talent tagging!